Red Giant Software Update v2023 Sept 2022 Win x64

2022-09-10

Plug-ins
/
VFX Plugins

733

0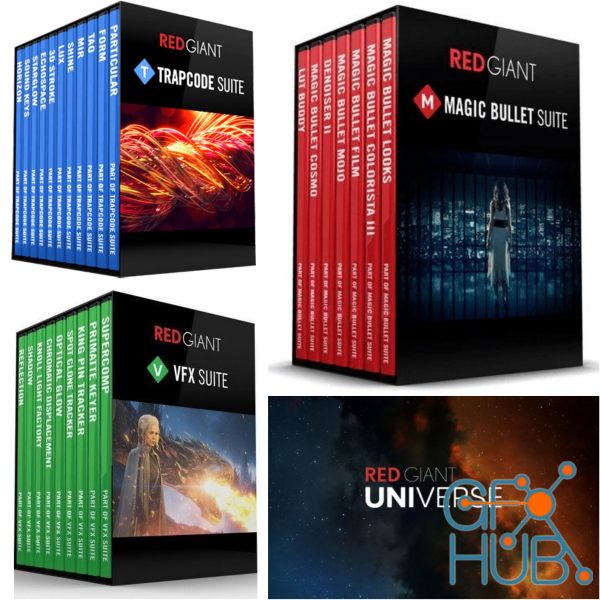 Red Giant Software Update v2023 Sept 2022 Win x64.
Includes:
Red Giant Trapcode Suite 2023.0
Suite Trapcode , the name of the tool sets and engineering specialty in the field of particle simulation and modeling and three-dimensional effects in After Effects is a software environment. You can help tools available in this package to simulate particles, such as fire, water, smoke, snow, etc. to pay. The combination of different particles that can be done to help plug an amazing result and will bring real for you. Plug before you also makes you consider your results get faster and better than ever.
Red Giant Universe 2023.0
Red Giant Universe is a powerful plug-in video effects and transitions for video editing software that has tremendous applications for motion graphics artists and editors there. This plug-in with 79 powerful tools and based on the GPU to help you make your footage look properly to convert old or modern. This plug-in tools such as VHS, Retrograde Carousel, Glitch, Holomatrix II , etc. to change the style of your videos.
Red Giant VFX Suite 2023.0
VFX Suite offers a powerful toolkit for realistic visual effects composites in After Effects. With Supercomp, light and atmospheric effects interact with all of your layers and the elements of a scene in a far more natural way than can be modeled with a simple stack of 2D layers. VFX Suite also includes tools for adding shadows and reflections that speed up some of the essential parts of creating a professional composite.
Red Giant Magic Bullet Suite 2023.0
Magic Bullet Suite - color correction, finishing and film looks for filmmakers. Magic Bullet Suite is a set of seven tools that bring intuitive, real time color correction, and beyond, right to your editorial timeline.
Download links: