Red Giant Magic Bullet Suite 13.0.6 Win x64

2018-02-16

Plug-ins
/
VFX Plugins

2 899

2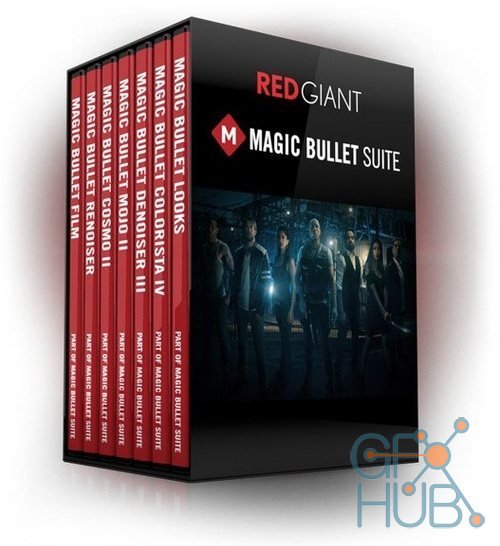 Download Red Giant Magic Bullet Suite 13.0.6 for Windows x64
Software Red Giant Magic Bullet Suite is a powerful set of tools for professional processing of video files, image color balancing, applying effects of styling and improving the quality of footage. The Magic Bullet Suite solution is intended for users of editors Adobe After Effects, Adobe Premiere Pro, and Apple Final Cut Pro.
Magic Bullet Suite incledes:
• Looks 4.0
• Colorista IV 4.0
• Denoiser III 3.0
• Mojo II 2.0
• Cosmo II 2.0
• Renoiser 1.0
• Film 1.2
The Magic Bullet Looks module is designed for users working in various nonlinear editing applications, such as After Effects, Premiere Pro, Final Cut Pro, Motion, Avid Xpress Pro / Media Composer. The solution contains 36 tools and more than 100 stylized effects. Magic Bullet Looks allows you to improve, adjust the colors and hues in the video, apply different styles, for example, to stylize video for the old movie.
The module allows to define and extrapolate effects of various lenses, filters and film. Magic Bullet Looks has a unique interface, allowing you to easily manage all available functions.
The Magic Bullet Denoiser module helps to edit video with noise interference and achieve high quality processing. Unlike traditional methods of noise reduction, which can cause blurriness of some small parts, the advanced technology Magic Bullet Denoiser can keep the frame sharpness. Implemented in Magic Bullet Denoiser functions of working with light allows you to edit the footage as if the shooting took place in a professionally exposed light.
The Magic Bullet Colorista module helps you perform professional color ordering directly in the used image editors. With the help of the tool you can achieve quality results in adjusting the color balance, radiance, clarity of color, etc. Magic Bullet Colorista II uses the Power Mask tool to isolate areas and tools for final color processing. The Magic Bullet Colorista II solution works in real time and provides fast viewing and rendering.
The Magic Bullet Mojo module is designed to create an effect of light frame tinting to make the skin tone of characters warmer, and the background and shadows - cold, while the attention of viewers is not concentrated on color correction. Magic Bullet Mojo gives the video a modern Hollywood look: quickly customizable effects will suit any type of footage. The interface of the Magic Bullet Mojo software module is simple and efficient and includes management tools.
Magic Bullet Cosmo module is designed for processing digital images of people close-up and editing photos of fashion-shooting thanks to simple and professional tools for correcting make-up, tone and texture of the skin. Red Giant Magic Bullet Cosmo is the optimal tool for fast processing of photo portraits - it allows you to adjust colors, brightness, remove skin imperfections and wrinkles without resorting to applications that consume a lot of system resources.
The Magic Bullet Renoiser module allows you to give the edited digital frames a cinematic look. Magic Bullet Renoiser introduces the texture of the film and grain for the compositions created using computer graphics and animation. In addition, the footage looks natural due to the possibility of adjusting the graininess: quantity, size, color options. Magic Bullet Renoiser includes 16 presets of granularity, based on real film films. Renoiser uses an adjustable algorithm that adapts to user frames, takes into account important details and does not add unnecessary graphics.
The Magic Bullet Film module gives a digital picture of the appearance of a real film with a complete emulation of the entire photochemical process - from the original negative film, color correction, and finally, printing. Magic Bullet Film is based on real cinema and real color grading, based on the experience of industry experts, and provides 88 possible cinematic combinations.
Compatible with:
• Adobe After Effects and Premiere Pro CC 2014
• Adobe After Effects and Premiere Pro CC 2015
• Adobe After Effects and Premiere Pro CC 2015.3
• Adobe After Effects and Premiere Pro CC 2017
• Adobe After Effects and Premiere Pro CC 2018
• Avid Media Composer
• Vegas Pro
• DaVinci Resolve
• Edius 8
• HitFilm Pro
OS: Windows 10 (x64), Windows 8 / 8.1 (x64), Windows 7 (x64).
Download
(register to see links):
Warning! You are not allowed to view this text.
Download links: