Blender Market – Uvpackmaster 3.1.0 pro u1

2022-09-9

Plug-ins
/
GFX Plugins

442

0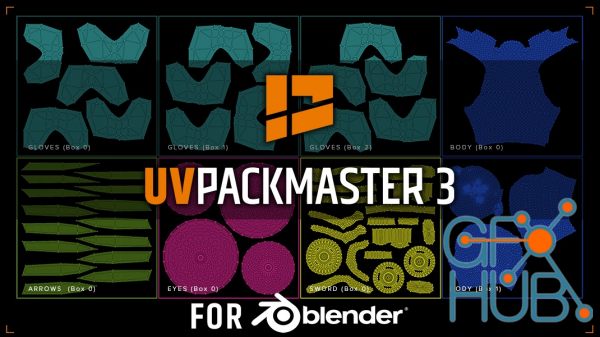 Download by Blender Market – Uvpackmaster 3.1.0 pro u1 fo Blender 3D.
New major release of the state-of-the-art UV packing solution for Blender!
For answers to most important questions regarding UVPackmaster 3, visit the FAQs on our site (recommended especially if you are a UVPackmaster 2 user and you would like to upgrade to UVPackmaster 3 for a discount price).
The previous release of UVPackmaster has already got much appreciation from users. Ratings of the UVPackmaster 2 PRO product on another marketplace:
Visit our site for the full set of UVPackmaster 3 features.
Pack your UV maps with maximum efficiency
Using the CPU and all GPUs in the system simultaneously!
UVPackmaster is the most efficient UV packer out there in terms of packing on CPU, but it also provides a Cuda-accelerated variant of the algorithm. When running on a GPU, it significantly outperforms all other packers available.
But what can be faster than running an algorithm on a GPU? Running it on the CPU and all GPUs in the system simultaneously! UVPackmaster will do exactly that to reduce the time needed to perform even the most advanced packing scenarios to seconds.
Not only packing efficiency
Note that UVPackmaster does not only mean high performance – it also provides a lot of sophisticated packing functionalities not available in other UV packers. Visit our site for more information.
Not only a UV packing tool
UVPackmaster 3 is a milestone that moves the tool towards more general UV applications. UVPackmaster is now not only a state-of-the-art UV packing solution – it also introduces an advanced UV aligning/stacking algorithm and other auxiliary tools, greatly simplifying your UV workflow.
All these functionalities run with engine-acceleration for maximum efficiency.
Maximum flexibility for the most demanding users, thanks to the scriptable architecture.
UVPackmaster is not a black box anymore. We embedded Python into the newest engine release, giving you a possibility to code your own operation logic, perfectly adjusted to your own most demanding workflows.
Lifetime license with free updates
By purchasing UVPackmaster, you will get a lifetime license to use it. You will also get all future updates for UVPackmaster 3 for free.
Upgrade from UVPackmaster 2
If you purchased a license for a previous version of UVPackmaster and would like to upgrade to UVPackmaster 3, visit the FAQs on our site and follow the instructions in the section How can I upgrade from UVPackmaster 2 to UVPackmaster 3.
Download links: