ArtStation – Easy Brush Variation ZBrush Plugin

2022-08-26

Plug-ins
/
GFX Plugins

473

0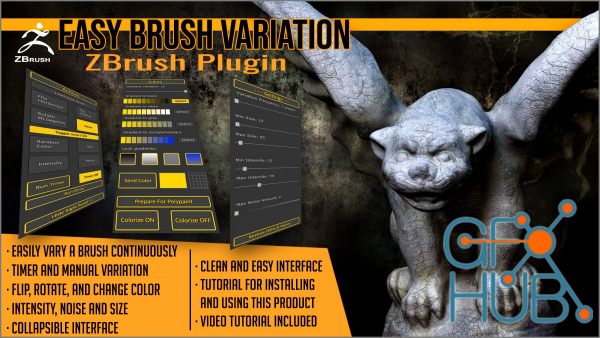 ArtStation – Easy Brush Variation ZBrush Plugin.
Easy Brush Variation is a plugin for ZBrush that helps you to get completely random variations of your current brush or alpha.
This way, it can help you to sculpt organic details in a way that is not predictable. So even with one single alpha, all the strokes will look different, as happens in nature.
It is useful when sculpting models like stone, skin, bark, ground, and many other organic features.
A must have for organic sculpting with ZBrush!
FEATURES:
Collapsible interface: set the options, then collapse the right part of the interface so it doesn't clutter your screen.
Run each variation by hand, or run a timer that makes variations every X seconds.
Set the time between variations for the timer between 1 and 10 seconds.
Rotate the brush in each run, in several ways.
Add an amount of noise to the brush on each variation. Set the maximum noise with a dial.
Alternate normal and inverted alpha.
Randomize the size and intensity between the values of the dials.
Randomize the color for polypaint: pick any color, and choose between 4 kinds of variation gradients. Set the degree of difference between colors with a dial.
Lock the gradients you like to keep them.
All the settings are remembered for the next time you open the plugin.
Restore the default values with one click.
A PDF tutorial.
A video tutorial, that you can also find on YouTube (in our channel), but is included in our product for your future reference.
COMPATIBLE WITH: Windows 10, 64 bits. ZBrush 2021.6.6 and above.
Download links: