Code Vonc Plugins for Cinema 4D R23 Win x64

2020-10-3

Plug-ins
/
GFX Plugins

1 320

0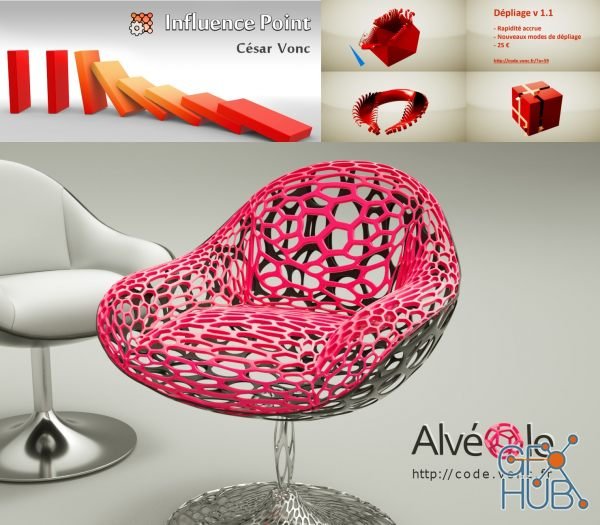 Code Vonc Plugins for Cinema 4D R23 Win x64
Includes:
Vonc Alveole v1.0.3 For Cinema4D R23 Win x64
Create an effect of alveoli, cells, all your objects. Based on the Voronoi and Catmull-Clark diagram.
http://code.vonc.fr/alveole
Vonc Unfolder v1.3.2 For Cinema4D R23 Win x64
The Unfold deformer allows you to create a progressive unfolding effect of each polygon.
http://code.vonc.fr/depliage
Vonc Influence Point v1.5.2 For Cinema4D R23 Win x64
Modifies an Influence Zone property based on the movement of the object's points or their arrangement. This tool comes in the form of a property to add to your editable polygon object. Then define the Zone of influence to modify property to calculate different modes of influence, such as the speed of movement of the points, the speed of rotation, stretching, the density of the mesh or the thickness of the object. It is also possible to convert influence to point / polygon selection automatically.
http://code.vonc.fr/influence-point
Download links: