Thea for SketchUp v2.2.1004.1875 Win x64

2020-07-29

Plug-ins
/
GFX Plugins

389

0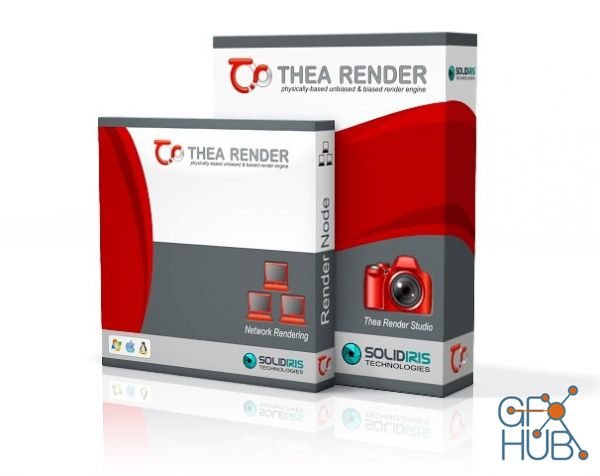 Thea for SketchUp v2.2.1004.1875 Win x64
Thea for SketchUp is a combination of powerful rendering engines of Thea with the simplicity of SketchUp. Having biased, unbiased and interactive render modes including GPU support at your fingertips, inside SketchUp view, is a joyful experience. The plugin lets you enrich your models with highly detailed three dimensional content, breaking old limitations related to handled model complexity.
Features:
Custom Scene Update:
-The Custom Scene Update buttons allow the user to control the update of materials, geometry, lights, and proxies every time the scene starts rendering. This makes it possible to turn off geometry updates when you only want to edit materials or lighting.
Section Cuts:
-Section cuts are now supported in SketchUp 2014 (and newer versions). Section cuts allow you to cut through buildings and rooms maintaining the same interior lighting as if the external walls were still in place.
Light Editing Tool:
-Thea for SketchUp has its own point lights. The Light editing tool not only allows precise light positioning, but it can also give live feedback while rendering interactively in the main window.
Advanced Shadow Catcher:
-Integrate your models into a scene with a background image, introducing realistic shadows produced by IBL, Sun and Thea Point Lights. It can also produce real reflections on the ground-plane.
Photoshop PSB/PSD output:
-Thea for SketchUp supports Photoshop PSB/PSD files (8, 16 and 32bit). This makes it possible to save multi-layer images in large formats.
Resume Rendering:
-Any rendered image can be saved as an .img.thea file. This file can be reloaded inside Thea Rendering Window at any time allowing the user to resume a rendering.
More Features:
-Spectral Renderer
-Batch Render Tool
-Point Lights (Omni, Spot, IES)
-Access many ready-to-use high quality materials.
Download links: