MightyDeals – 5,000+ Professional Text Effects

2022-10-6

Other Graphics
/
Photoshop

713

0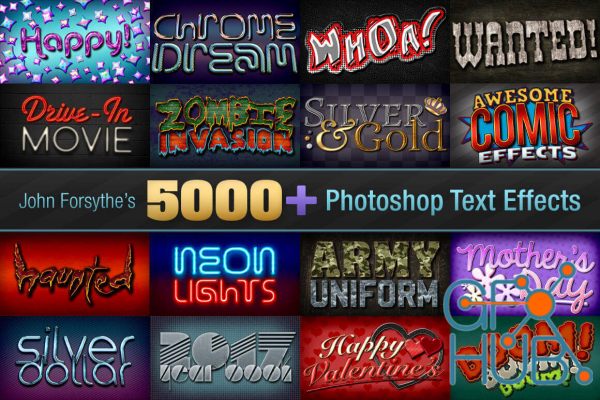 MightyDeals – 5,000+ Professional Text Effects from John Forsythe
Yes, a picture's worth a thousand words. But when those words are the pictures, you've certainly got plenty to say! This incredible Mighty Deal from John Forsythe features more than 5,000 Professional Photoshop Text Effects. Simple to use, these effects are culled from 24 different sets and cover everything from Neon Lights to Textured Metals to Furry Animals. Impress your clients without even working up a sweat!
Highlights:
Take your creativity to a whole new level with more than 5,000 incredible Photoshop Text Effects.
Culled from 24 different sets, you're sure to get 5,293 total effects in a wide variety of styles.
Simple to use, you can add any of these amazing effects with a simple click.
Styles range across the board, including effects such as: Neon Lights, Incredible Metal, Comic Book, Military, Clear Glass, Fantasy/Adventure, Classic Wood, Genuine Leather, Smooth Marble, Solid Stone and so much more!
Full list of effects include are:
Neon Lights: 228 effects
Incredible Metal: 328 effects
Textured Metals: 272 effects
Colored Glass: 240 effects
Clear Glass: 180 effects
Military: 288 effects
Comic Book: 336 effects
Classic Wood: 200 effects
Rough Wood: 178 effects
Weathered Woods: 144 effects
Fantasy/Adventure: 284 effects
Letterpress/Insets: 704 effects
Small Text: 127 effects
Easter/Spring: 64 effects
Valentines/Weddings: 352 effects
Halloween/Scary: 284 effects
Sports/Uniforms: 296 effects
Furry/Animals: 116 effects
Pixel Perfect Buttons: 66 effects
Genuine Leather: 152 effects
Glowing Gemstones: 120 effects
Smooth Marble: 164 effects
Solid Stone: 154 effects
Fire: 16 effects
http://www.mightydeals.com/deal/5000-john-forsythes-text-effects.html
Download links: