SIGERSHADERS V-Ray Material Presets Pro v3.2.0 for 3ds Max 2013 – 2016

2015-11-11

Materials

5 305

0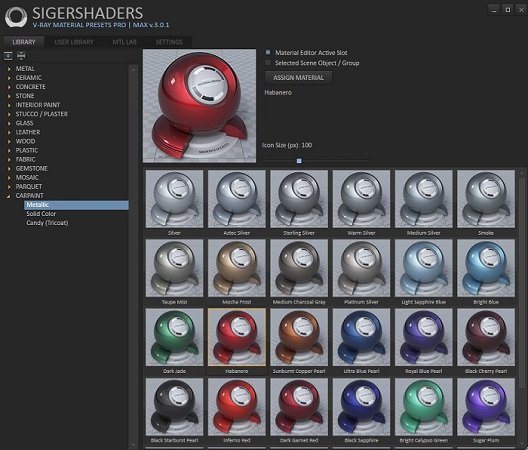 SIGERSHADERS V-Ray Material Presets Pro v3.2.0 for 3ds Max 2013 – 2016
The Siger Studio's SIGERSHADERS V-Ray Material Presets Pro is a powerful material collection for 3ds Max and V-Ray and User Library material manager.
The collection consists of different categories of materials: Metal, Ceramic, Leather, Stone, Concrete, Glass, etc… The list of materials permanently grows.
KEY FEATURES
1196 V-Ray material presets and templates:
Metal (129)
Ceramic (140)
Concrete (7)
Stone (8)
Interior Paint (200)
Stucco/Plaster (57)
Glass (35)
Leather (200)
Wood (26)
Plastic (62)
Fabric (125)
Gemstone (53)
Mosaic (40)
Parquet (48)
Carpaint (66)
Compatible with 3ds Max 2013/2014/2015.
Compatible with V-Ray 2.0 and above.
Compatible with SolidRocks
All materials have been tested by professionals on real projects.
You can create and manage your Material Library.
All textures used are seamless.
Friendly and simple interface.
Useful for V-Ray newbies, average and power users.
VERSION REQUIREMENTS
The product is compatible with 3ds Max 2013 – 2015 | V-Ray 2.x and later | 32 and 64 bit.
1. install VMPPmax_setup_320.exe
2. move maps folder to C:\VMPPmax
3. start 3ds max and go to customize–customize user interface–toolbars
4. click on New and New Toolbar enter Name window pops up, enter VMPP
5. now scroll in Action to VMPP and drag and drop it on the New Toolbar named VMPP
6. place your new created VMPP button somewhere in toolbar
7. push the button and n-joy
might also need to uninstall Microsoft .NET Framework 4.6 and roll back to 4.5
3ds Max 2013 – 2015 | V-Ray 2.x and later | 32-64 bit | 3.2 GB
Download links: