Unreal Engine Asset – T-Pose Zombie 2

2020-10-8

Game Development
/
Unreal Engine Assets

743

0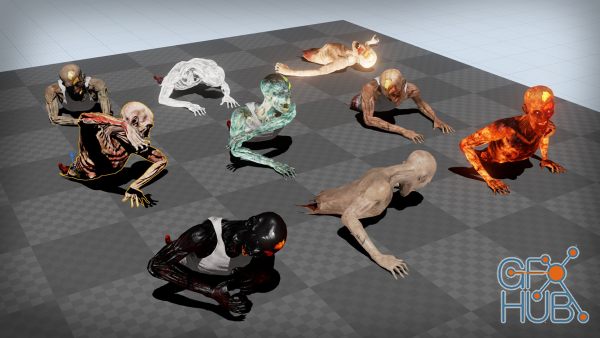 Unreal Engine Asset – T-Pose Zombie 2
50 custom mocap 60fps animations on Unreal skeleton; mesh, textures, LODs and material instances.
The second of a series of game-ready Zombies made using AAA best practices. This content package includes 50 custom motion captured animations on the Unreal skeleton; a primary skinned mesh with high-res diffuse, subsurface, normal and specular maps; LODs; a morph target to open and close the jaw. A separate shirt, hair and intestines meshes to control the level of gore and creation variation. 8-way directional movement animations with and without root motion. Max poly-count is 10,769 triangles with materials for body/intestines, hair and shirt.
Technical Details
Motion captured animations of locomotion , attacks, hits, emerge from grave, knock back/left/right, turns, hitting 41 animations.
- 9 root motion animations
- 50 animations total
Intended Platform: All Platforms
Asset Details:
Current Version: N/A
More Info: https://www.unrealengine.com/marketplace/en-US/product/t-pose-zombie
Download links: