Unity Asset – Storyteller

2021-12-30

Game Development
/
Unity Assets

260

0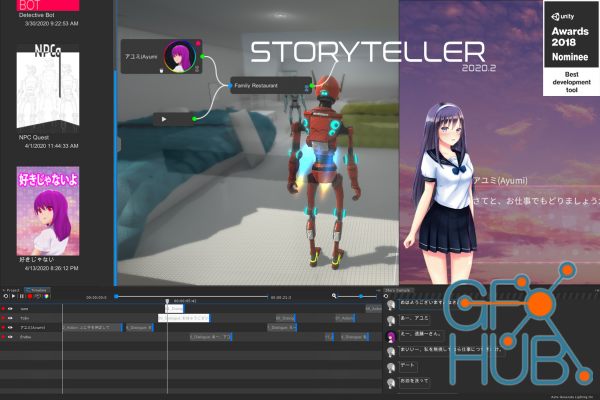 Download Unity Asset – Storyteller.
FORGET THE OLD WAYS of creating DIALOGUE, STORIES and CHARACTER INTERACTIONS.
Here is just SOME of what you can do:
● Character Interaction
● Character Dialogue
● Text and Voiced narrative content
● Storyboarding
● General Narrative content creation
● Text Localization
● voice Localization
● Sound effect Localization
● Cutscene Setup
● Visual Storytelling
● and more
There was a free evaluation version, however it became too expensive to maintain
There are two components to this tool:
A full pre-production tool set for your narrative content creation and a production tool set for bringing your content to life in game.
All in a tiny 45 MB package (ONLY 3.1 MB is what is required , everything else is example assets).
By creating your narrative content visually you see the present and future of your content simultaneously, making it easy to create dialogue, tell compelling and dynamic stories and make changes at any moment. You can then quickly and easily it in your game.
Character interactions are set in the Storyteller Timeline editor and a simple but efficient visual scripting condition system allows you to execute any function per node.
This is all a visual process and you see only what you wish to see.
Collaboration and sharing of your story among team members is efficient. You can share storyteller story files and story scenes which anyone with storyteller can view and edit.
There are currently three example scenes in the package.
● Detective Bot (basic setup for a mini mystery game)
(Basic setup for a visual novel in English and Japanese)
● NPC Quest (basic setup for NPC interction)
Requires TextMesh Pro
Asset Details:
Current Version: 2020.2.3d
More Info: https://assetstore.unity.com/packages/tools/integration/storyteller-97715
Download links: