Unity Asset – Car Paint – Lite v2.1

2020-11-11

Game Development
/
Unity Assets

509

0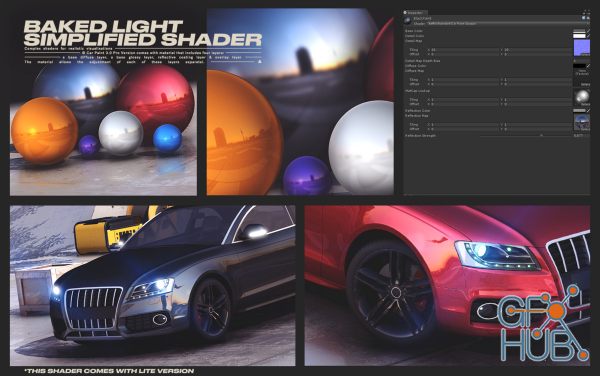 Unity Asset – Car Paint – Lite v2.1
Car Paint Lite is package which will help you to create photo-realistic visualizations of Cars, Motors, Planes and any kind of metal related objects using our three basic shaders. Supporting mobile and high-end workstations.
What's Inside Lite Version
▲ 3 Car Paint Lite Shaders ▲ 1 Car Model ▲ 24 Example Scenes ▲ Camera Rotate Script ▲ Explode Part Script ▲ 3 Environment Scenes ▲ 4 Light Flares ▲ HDRI Outdoor & Indoor Studio Maps
Features:
▲ allows to quickly create your own car setups
▲ different scenariors examples for mobile and pc's
▲ different scenariors examples for mobile and pc's
▲ constant updates and new features
▲ active development & support
▲ easy to use for beginners and professionals
▲ clean & unique modern style
Technical aspects:
▲ optimized and polished prefabed models
▲ 8k & 4k Environment Textures
▲ Correct proportions
▲ Car Triangle Count 300k~
▲ Separated vehicles parts for Car Configurlators
▲ [IMPORTANT] Shaders are optimized for mobile, but example scenes are using Image Effects which may not work on mobile devices
Each element has been carefully crafted, with in-game use optimization in mind.
Asset Details:
Current Version: 2.1
More Info: https://assetstore.unity.com/packages/vfx/shaders/directx-11/car-paint-lite-20422
Download links: