Unity Asset – POLYGON – War Pack v1.0

2020-10-30

Game Development
/
Unity Assets

907

0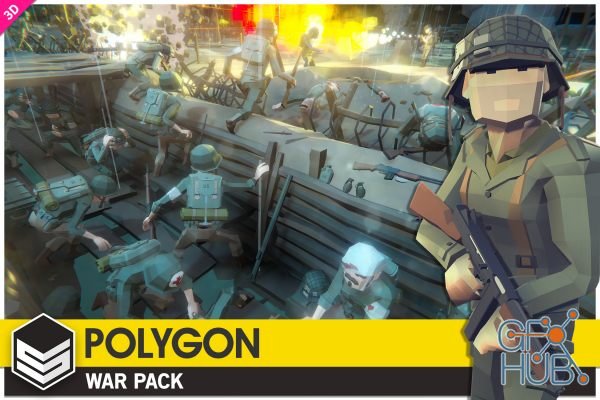 Unity Asset – POLYGON – War Pack v1.0
Synty Studios Presents -
A low poly asset pack of characters, props, weapons and environment assets to create a War themed polygonal style game.
Modular sections are easy to piece together in a variety of combinations.
(Includes a demo scene)
Key Features -
588 unique assets with x4 alternative texture colors.
Assets
- Modular Trench Set, European Farmhouses, Modular European City Set, Modular Dirt Road Set, Modular Bunker Set, Modular Beach Set, Tonnes of cool war effects, Bomb Craters, Sandbags, Townhouses, Camo Netting Tent, Barns, Trees, Trench Sections, StoneWalls, Wooden Fences, Washing Lines, Hay Bales, Crates, Barrels, Hedges, Dirt Road Sections, Hanger, etc.
Vehicles (x24)
- American + German + Russian Tanks, German Staff Car, American + German military jeeps, Damaged Vehicles, American + German + British Fighter Planes, American + German Bombers, Battleship, Cruiser ship, Submarine, Landing Craft, V2 rocket, Barrage Balloon.
Characters (x24)
- American Infantry 01, American Infantry 02, American Officer Male/Female, German Infantry 01, German Infantry 02, German Officer, German Leader, Russian Infantry, British Commando, British Leader, Australian/Kiwi Infantry, Nurse, Resistance Male/Female, Pilot, Civilian Male/Female.
(with Alternative Colors)
Character Attachments (x51)
Weapons (x23)
-Heavy Machine Guns,Rifles, Machine Guns, Pistols, Rocket Launchers, SubMachine Gun.
- Heaps of awesome content included (see the layout screenshots for more details)
- Character setup to work with Mecanim (no animations included in this pack)
- Shaders work with the Scriptable render pipelines (HD + LW)
Asset Details:
Current Version: 1.0
More Info: https://assetstore.unity.com/packages/3d/environments/historic/polygon-war-pack-106992
Download links: