Unity Asset – Advanced Builder v1.3.4

2020-10-16

Game Development
/
Unity Assets

400

0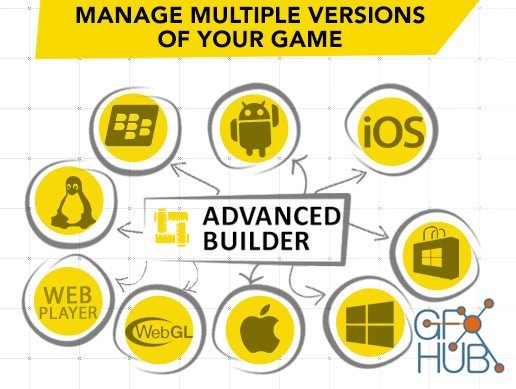 Unity Asset – Advanced Builder v1.3.4
Advanced Builder provides an easy way to build in one click, multiple versions of your game on a lot of platforms.
For example, with one click, Advanced Builder will build a Demo and Paid version of your game on 4 different platforms (that's 8 builds in one click).
Features
- Manage multiple versions of your game,
- Build on multiple platforms in one click,
- Switch in one click between multiple configurations to test your game in the Editor,
- Define a clean destination path for all your builds,
- Add your custom pre/post build script,
- Distribution platforms (to deal with Google Play, Amazon Store for example...),
- Use different scripting defines for each configuration,
- Choose the scenes you want to include in each configuration,
- Clean C# code.
Warning
- If you want to automatically build multiple version of your game with Advanced Builder, you will absolutely need Unity Pro or Unity 5 (because custom builds requires Unity Pro). BUT you can manually set a configuration via the 'Project Configuration' window. So you'll have to click on a button to set the configuration you want, and then build manually every configuration.
- This tool does NOT allow you to build for iOS on a Windows/Linux machine. You need a Mac for that.
Continuously supported since January 2014!
Asset Details:
Current Version: 1.3.4
More Info: https://assetstore.unity.com/packages/tools/utilities/advanced-builder-13624
Download links: