Unity Asset – Army of Skeletons v3.0

2020-10-8

Game Development
/
Unity Assets

547

0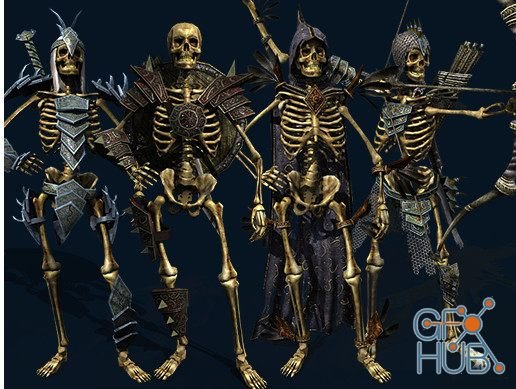 Unity Asset – Army of Skeletons v3.0
Can share same animations with Skeleton Hero Playble Character! asset and all it single assets via Mecanim:
Perfect for making evil armies for first person and third person games.
Four animated skeleton characters and four non-animated skeletons:
1. Skeleton Warlord character, 45 animations See it on video!
2. Skeleton Sorcerer character, 47 animations See it on video!
3. Skeleton Archer character, 48 animations See it on video!
4. Skeleton Footman character, 46 animations See it on video!
5. Skeleton T-pose prop
6. Skeleton Lying prop
7. Skeleton Standing prop
8. Skeleton Sitting prop
The skeleton alone has 7,292 polygons, 13,676 triangles, 7,200 vertexes. A skeleton with armor and weapons has about 8,000 - 10,000 polygons, 15,00-18,000 triangles, 8,000-10,00 vertexes.
The rig has 39-49 bones.
Textures: diffuse, specular, opacity and normals maps.
TIF file format 2048x2048, 1024x1024 and 512x512
Asset Details:
Current Version: 3.0
More Info: https://assetstore.unity.com/packages/3d/characters/humanoids/fantasy/army-of-skeletons-7110
Download links: