Unity Asset – AQUAS 2020 v1.1.1

2020-08-21

Game Development
/
Unity Assets

718

0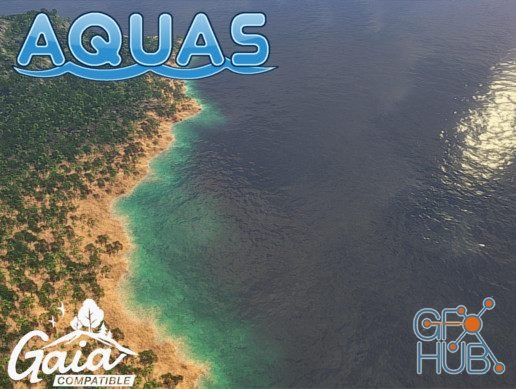 Download Unity asset – AQUAS 2020
Welcome to AQUAS 2020!
AQUAS 2020 is the newest version of AQUAS. It comes with greatly increased ease of use, reworked shaders, full compatibility to the newest Unity versions and a variety of powerful new features.
AQUAS is a full-featured water system to simulate flat water for all types of platforms, environments and games. It is is highly customizable and feature rich to suit all needs and produce industry quality results.
The usual workflow with AQUAS is to first create your scene, add AQUAS in the second step and then adjust water and underwater effects to fit your exact needs.
Quick Setup
AQUAS has been created to be as user friendly and quick to set up as possible and highly customizable at the same time.
Not only does it come with a setup window that can add AQUAS to your scene with a few clicks, it is also fully integrated into Gaia, which allows you to equip your Gaia terrain with full featured water within seconds!
Flow Map Rivers
AQUAS comes with full flow map support. Flow maps blend in smoothly with the wave motions which allows the creation of remarkably realistic looking rivers. The integrated river setup menu allows to quickly create river planes and export the river reference texture to use as a blueprint for painting proper flow maps.
Depth Buffer Support
AQUAS 2020 offers full depth buffer support for various effects such as realtime shadows, screen space fog and volumetric lighting, while preserving its transparent nature.
Infinite Water
AQUAS 2020 offers truly infinite water that reaches to the horizon, no matter how far away your far clipping plane is, while preserving mesh density close to the camera to simulate small physical waves.
Partial Submersion
AQUAS's underwater effects allow split rendering. This means, that when only a part of your camera is underwater, only that part will render underwater effects.
Shallow Water
The package also contains a high quality solution for shallow water with full depth-buffer support.
Shoreline Masking
The shaders included can render soreline normals giving the water a more realistic look. AQUAS comes with a tool to generate the shoreline masks for this.
Buoyancy
The package contains a basic buoyancy effector that works on mesh object as long as they have a collider component on them.
Depth Mask
AQUAS comes with a basic depth mask shader that can be attached to volumes inside which water won't render. This keeps water from rendering inside floating objects such as boats and ships.
Ripple Effects
Ripple effects are easily set up and can render ripples for up to 4 objects simultaneously.
Rendering:
* Multi-Light-Support
* Flow map based rivers
* Distance based texture tiling
* Distorted Realtime Reflections
* Reflection Probe reflections for use in VR
* Realtime Refraction
* Depth Based Color Absorption
* Self-Sustaining Fog System, that works with any custom lighting
* Dual-layered caustic effects
* Hi-res normal maps for excellent visual quality and lo-res normal maps for high performance on mobile devices
Underwater Effects:
* Limited & Distorted vision
* Blur
* 3D Morphing Bubbles
* Realistic Bubble Spawner
* Advanced Wet Lens Effect
* Depth-based underwater effect: The deeper you go, the darker it gets
* Unity's post processing stack is no longer required for the underwater effects to work.
Useful Utilities
* Basic Buoyancy feature
Alternative Buoyancy effect: Realistic Water Physics (integration)
* Screen Shotter for use in the Editor
* Render Queue Controller to manually manipulate the water's render queue index
* Depth mask shader to prevent water from rendering inside boats
Ease of Use:
* Works out of the box (Demo Scene included)
* Highly customizable
* Setup Wizard
* Terrain masking tool
* Camera navigator for quick evaluation of your scene * Easy River Setup
All these features combined allow AQUAS to deliver industry quality results with little effort.
AQUAS has been tested with various terrain tools and is known to work well with:
* Gaia (integration)
* Landscape Builder (integration)
* World Creator
* Map Magic
* Terrain Composer
AQUAS works with Unity Free & Pro
Asset Details:
Current Version: 1.1.1
More Info: https://assetstore.unity.com/packages/tools/particles-effects/aquas-2020-138749
Download links: