Unity Asset – Complete Terrain Shader v1.1.0

2017-08-1

Game Development
/
Unity Assets

3 731

2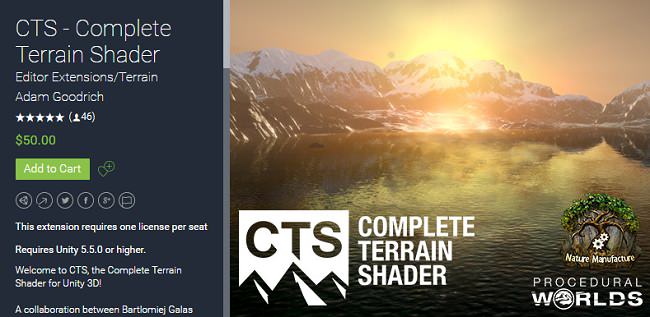 Complete Terrain Shader | v1.1.0 Jul 14, 2017
Requires Unity 5.5.0 or higher.
A collaboration between Bartlomiej Galas and Adam Goodrich, CTS combines our collective expertise to create a terrain shading system that is both Powerful and Easy to Use!
CTS comes with a professional texture library that can be applied with a click to instantly change the look and feel of your scenes, and works much like the Unity Post Processing profile system and can be tweaked at run time to get your environment just right.
Key Features:
– 16 textures 1 pass – fast;
– PBR terrain – beautiful looking terrain;
– Standard work flow – compatible & easy;
– UV Mixing – removes tiling;
– Detail Mixing – adds interest & reduces tiling;
– Geological Layering – adds interest;
– Detail Mixing – adds interest & reduces tiling;
– Dynamic Snow Cover – with a slider;
– Dynamic Water Cover – with a slider;
– Height Blending – relative texture blends;
– Basic, Advanced & Tesselation variants;
– Ambient Occlusion – realistic shadows;
– Profile Based – similar to Unity Post FX;
– Texture Library – 48 quality sets, 20 helpers;
– Profile Library – matched profile sets; – Substance Support – save time on exports;
– MegaScans texture support;
– MapMagic and runtime terrains;
– Seasons & Weather – Rain, Snow & Seasonal variation, easily integrated;
– Sample performance, swamp and landcape scenes included, excluding 3D models;
– VR Compatible;
Per Texture Control of:
– Albedo, Normal, Smoothness, Roughness, Height, Ambient Occlusion;
– Near and far tiling – reduces tiling;
– Tinting – matching & seasonal variation;
– Brightness – texture matching;
– Smoothness – reflection & wetness;
– Height blending – relative texture heights;
– Height depth – relative texture depth;
– Triplanar – no more terrible cliffs;
– Detail strength – use it as needed;
– Geo strength – use it as needed;
– Snow amount – control snow cover;
– Snow / Water – angle, height, hardness;
– Snow / Water tint – vary color by usage;
Hardware support:
– Shader model 3.5+ (basic + advanced);
– Shader model 4.6+ (tesselation);
– Direct X 11 / 12;
– Open GL ES 3.0;
– WebGL 2.0;
– Metal;
Home Page: _http://www.assetstore.unity3d.com/en/#!/content/91938
Asset Details:
Current Version: N/A
More Info:
Download links: