Unity Asset – ZOMBIE PRO: MoCap Animation Pack

2021-10-7

Game Development
/
Unity Assets

211

0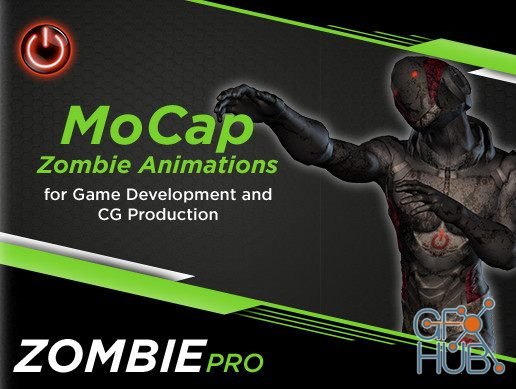 Unity Asset – ZOMBIE PRO: MoCap Animation Pack
INCLUDING: Hyper Zombie Chases and Running, Jumping, Hyper-Attacks, On-Fire Variations and Deaths, Hits, Knock Backs, Crawling/Transitions, Standing Idles Variations, Walking, Slow Chasing, Directional Deaths, Reaching, Turns, and Shambles.
Technical Details
Includes documents with Tips on Avatars and Avatar Adjustments, and "Reference" root motion.
Major Rev. 2.7 Update
All Animations Humanoid
All Animations Root Motion and In-Place
Many New Animations - Please Download and read the entire Animation List!
New Short Loops, Attacks and Deaths - Many shorter truncated and looped variations, along with the original long performances.
New Attack Idles - New aggressive idles, with poses matching hyper-attacks.
New Turns and Looping Turns - Many new cleaner turns and loops, and quick 90 and 180 turning loops.
Hyper Chase Leaning CIR Turns - Realistic leaning into turns.
New Aggressive Hyper Chases - New FAST aggressive, scary running animations. You will need to fight, no outrunning these monsters.
New Split Jumps and Landings - Hyper Chase split jumps, with landings for all Hyper Attack idles. (see List and Sketchfab)
New Stabilized Root Motion with Single Axis and Single Speed, foreasier In-Place implementation and results - Erratic reference Root movement has been edited and removed for smooth motion in a single direction and single speed. Better results for Multiplayer use.
Detailed Animation List w/Documented Speed Cm/Sec - Please Download and read the entire Animation List!
All animations are .fbx format, standard fbx bone names.
Asset Details:
Current Version: 2.5
Category: Unity Animations
More Info: https://assetstore.unity.com/packages/3d/animations/zombie-pro-mocap-animation-pack-47059
Free download links for «Unity Asset – ZOMBIE PRO: MoCap Animation Pack»: