Photoshop 2022 Master Class. – The Creative World Powered by Photoshop (MOBI, PDF)

2023-02-9

Books, magazines

154

0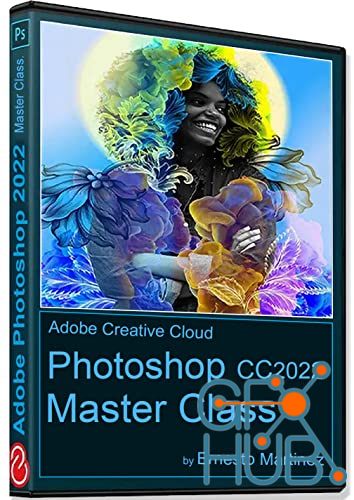 Photoshop 2022 Master Class. – The Creative World Powered by Photoshop.
English | 2022 | ASIN: B0BB47XTJX | 255 pages | MOBI, PDF | 18.7 Mb
Improve your skills in the field of image editing, composition and manipulation with this complete Adobe Photoshop Course , one of the best image and graphic design programs in the world. In this course you will discover how to create spectacular designs and enhance your everyday photos, design creative illustrations for websites, mobile applications and much more. Photoshop it's at the core of nearly every creative project , from photo editing and compositing to digital painting, animation, and graphic design. You will learn to transform everyday photographs into true works of art. Posters, product packaging, banners, websites – all of your design projects start with Photoshop . Learn to combine photos and text to create completely new and impressive designs. We'll show you the benefits of working with layers and masks, and painting with brushes that you can easily control. Today you can start a project on your iPad and finish it on your desktop—your work is automatically saved to the cloud and your PSD files are the same, no matter where you are. If you're new to Photoshop, here you'll learn the main concepts and features you'll need to master the program. The lessons are designed so that you can learn at your own pace, regardless of the knowledge you already have of the program, we have covered the greatest number of concepts and advanced tools necessary for the work of the photographer and the image designer.
We have structured the book so that each chapter or lesson provides help and references for using each tool, command, and method of working with the program, as well as step-by-step instructions for creating specific projects. You can study the book from cover to cover or consult only the chapters that fit your interests and needs. This book is not intended to replace official Adobe documentation, nor is it intended to be a complete reference to the entire Photoshop CC program. With this book we try to facilitate the use of Photoshop in the work area of photography and image design.
Contents: 1. INTRODUCTION TO PHOTOSHOP. 2. THE WORK SPACE. 2. TOOL GALLERY . 4. PHOTOSHOP PANELS. 5. IMAGES MANAGEMENT. 6. COLOR MANAGEMENT. 7. LAYERS IN PHOTOSHOP 8. ADJUSTMENTS IN THE IMAGE. 9. FILTERS AND EFFECTS. 10. EDIT YOUR FIRST PHOTO.
Download links:


Archive
« March 2023 »
Mon
Tue
Wed
Thu
Fri
Sat
Sun
1
2
3
4
5
6
7
8
9
10
11
12
13
14
15
16
17
18
19
20
21
22
23
24
25
26
27
28
29
30
31