Creating Art with Alcohol Ink – Complete Guide to 12 Easy Techniques, 17 Spectacular Projects (Design Originals) (True EPUB)

2023-01-14

Books, magazines

54

0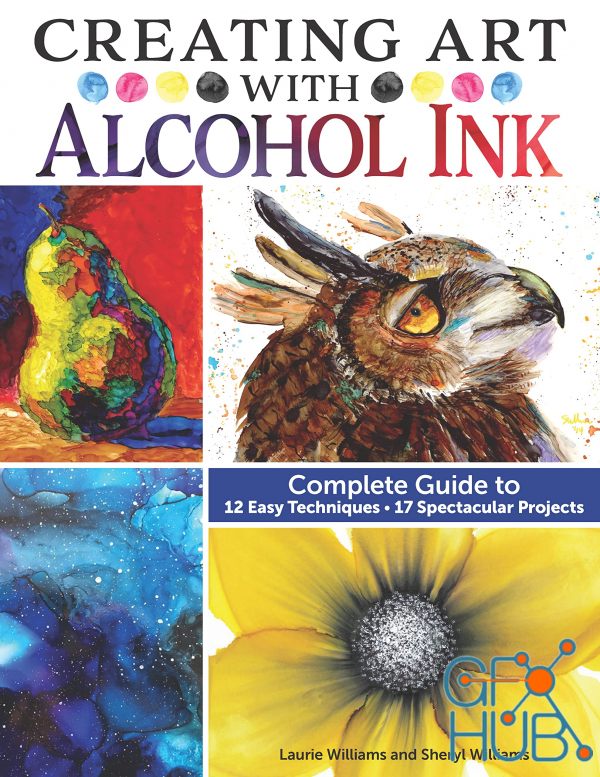 Creating Art with Alcohol Ink – Complete Guide to 12 Easy Techniques, 17 Spectacular Projects (Design Originals).
English | 2023 | ISBN: ‎ 1497206251 | 136 pages | True EPUB | 83.33 MB
Learn how to paint with alcohol ink!
How-to guide to everything you need to know about alcohol ink painting
Detailed opening sections on need-to-know basics about alcohol inks, tools, materials, surfaces, color theory, storage, and more
Technique tutorials for 12 different painting methods, from pouring, dripping, and blowing to blending, masking, brush painting, and more
17 painting projects both for beautiful abstract and nature scenes, as well as additional home décor projects for tile coasters, jewelry pendants, and decorative ornaments
Learn to paint on different surfaces including glass, canvas, clothes, wood, plastic, silk, metal, paper, and many more mediums Whether you're a seasoned artist or are about to paint your first brush stroke, Creating Art with Alcohol Ink will show you how to paint with alcohol ink!
In this complete painting book, you'll discover 12 different painting techniques — including pouring, dripping, blowing, blending, staining and lifting, masking, brush painting, push and glide, dabbing, doodling, splattering, and wisping — so you can practice and master them all on different surfaces! Also included are detailed opening overviews on the basics of alcohol inks, surfaces, color theory, and other essential topics to know.
Stunning step-by-step alcohol ink painting projects are provided to recreate beautiful birch trees, tropical scenes, mountain landscapes, and even home décor items like tile coasters, ornaments, and jewelry pendants using easy-to-find and affordable materials. With so many easy-to-follow technique tutorials and inspiring projects to try, this is an absolute must-have resource!
Co-author Laurie Williams is the founder of the Alcohol Ink Art Community, an online portal where she teaches, encourages, and helps artists of all skill levels build and grow their business. Co-author Sheryl Williams is a self-taught artist who teaches painting classes to students across the globe and offers the building blocks of techniques and tools that develop crucial and fundamental skills.
Gain all the knowledge you need to succeed at alcohol ink painting, with Creating Art with Alcohol Ink !
Download links:


Archive
« March 2023 »
Mon
Tue
Wed
Thu
Fri
Sat
Sun
1
2
3
4
5
6
7
8
9
10
11
12
13
14
15
16
17
18
19
20
21
22
23
24
25
26
27
28
29
30
31