Mastering Adobe Photoshop Elements 2023 – Bring out the best in your images using Photoshop Elements 2023, 5th Edition (True PDF)

2022-12-31

Books, magazines

184

0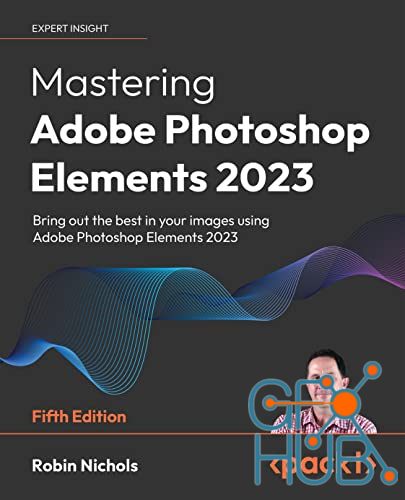 Mastering Adobe Photoshop Elements 2023 – Bring out the best in your images using Photoshop Elements 2023, 5th Edition.
English | 2022 | ISBN: ‎ 1803248459 | 511 pages | True PDF | 123.3 MB
Take complete control of all your image-editing ambitions using this beautifully illustrated, easy-to-understand, jargon-free guide
Purchase of the print or Kindle book includes a free eBook in PDF format
Key Features
Fifth edition of the bestselling, widely acclaimed Photoshop Elements series
Clear instructions, color images, hundreds of examples to demonstrate features in Adobe Elements 2023
Fully updated to include advanced Layer Masking and Retouching techniques, Photo Bashing, scrapbooking, plug-ins and a range of impressive features driven by Adobe Sensei AI technology
Book Description
Produce impressive, high-quality pictures to influence your audience, grow your brand, and market your products and services.
With its impressive range of sophisticated creative capabilities, Adobe Photoshop Elements 2023 is all you need to create photos you'll love to share.
The fifth edition of this widely acclaimed series will help you master photo-editing from scratch. Start by learning basic edits such as auto tone correction, image resizing and cropping, then master contrast, color, sharpness, and clarity.
If you're stuck, check out the new chapter 'Getting Started with Simple Solutions' where your most common questions are answered.
Elements 2023 extends its AI capabilities by simplifying complex editing processes. Learn to stitch widescreen panoramas, remove people from backgrounds, de-focus backgrounds, re-compose images, and even create a range of calendars and greeting cards for your friends and family.
Take your prowess to the next level by learning how to correct optical distortion, re-shape images, exploit layers, layer masking, and sharpening techniques—create the perfect picture or imaginative fantasy illustration. You'll also learn the online realms of animation, video creation, and third-party plug-ins.
By the end of this book, you'll learn how to leverage the incredible features of Photoshop Elements 2023 with complete confidence.
What you will learn
How to retouch images professionally, replace backgrounds, remove people, and resize your images
Animate parts of your photos to create memes to wow your social media fans
Showcase your photos and videos with all-new collage and slideshow templates
Use image overlays to create unique depth of field effects
Discover advanced layer techniques designed to create immersive and powerful illustrations
Take your selection skills to the next level for the ultimate in image control
Develop your illustration skills using the power of Elements' huge range of graphics tools and features
Easily create wonderful effects using Adobe's awesome AI technology
Who this book is for
This Photoshop Elements book is for creative and enthusiastic photographers who have elementary experience in photo editing. If you are looking to organize your picture collection, make simple yet effective edits, and take control of post-processing requirements, this is the book for you
Table of Contents
Photoshop Elements Features Overview
Setting Up Photoshop Elements from Scratch
The Basics of Image Editing
Getting Started with Simple Solutions
Easy Creative Projects
Advanced Techniques: Transformations, Layers, Masking and Blend Modes
Advanced Techniques: Retouching, Selections, and Text
Additional Tools and Features
Advanced Drawing, Painting and Illustration Techniques
Exporting Work, Sharpening, and Plug-ins
Troubleshooting and Additional Techniques
Feature Appendix
Download links:


Archive
« March 2023 »
Mon
Tue
Wed
Thu
Fri
Sat
Sun
1
2
3
4
5
6
7
8
9
10
11
12
13
14
15
16
17
18
19
20
21
22
23
24
25
26
27
28
29
30
31