ADOBE PHOTOSHOP 2022 – A-Z Adobe Photoshop 2022 Mastery Guide for Beginners, Intermediates and Experts (EPUB, PDF)

2022-09-9

Books, magazines

117

0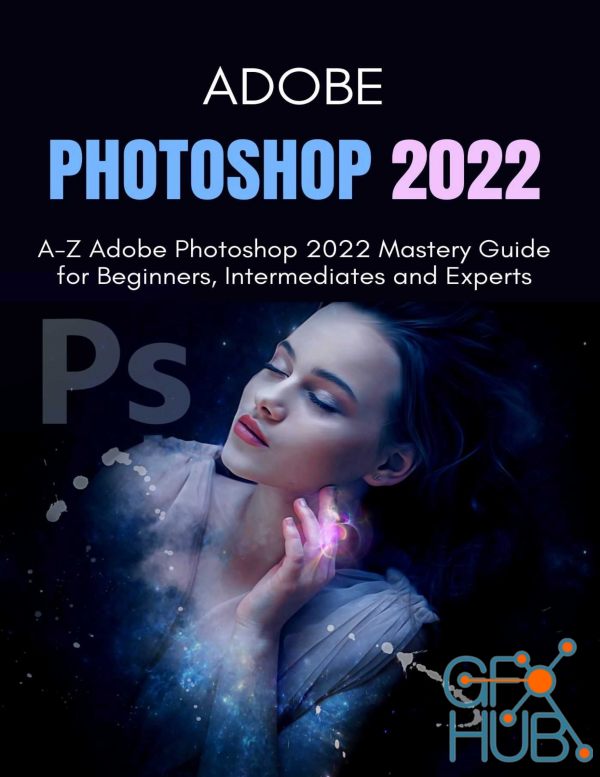 ADOBE PHOTOSHOP 2022 – A-Z Adobe Photoshop 2022 Mastery Guide for Beginners, Intermediates and Experts.
English | 2022 | ASIN: B09V4GJ2VP | 464 pages | ePUB,PDF | 47.3 MB
With the Adobe Photoshop software, you can bring your fantasy closer to reality. Glide into that reality effortlessly and seamlessly with the help of this unseen guide who is ready to accompany you on your adventure.Have you ever imagined how a color combination would seem, or perhaps even made some imaginary changes after seeing a photo and wished your fantasies came true? Or perhaps you're one of those people that like getting their hands on art, bringing out something vibrant and imaginative, and looking at different variants of the same image?Whatever area you're in, you'll need a channel to portray yourself and make concrete what you picture once you've dealt with photos, colors, art, designs, web, editing, creativity, and so on.But don't stop there; you must understand how each tool and command works, why you need them, when to use them, and how to use and maximize them to meet your needs. Let me tell you something. This guide will assist you in doing just that!Whether you're new to Photoshop or a seasoned pro, it's awesome you're here; I can guarantee you that this guide will take you from newbie to pro-level as a newbie, greatly level up your skillset as an advanced user, and experts will undoubtedly discover a series of innovative things as this guide is jam-packed with content and practical illustrations; take a look at some of the packages covered in this guide
As a novice, you will be given a thorough lesson on understanding of Adobe Photoshop.
Learning how to use the various tools and commands, as well as what they're used for.
Learn how to use the Photoshop Workspace (the panels, menus, and more).
Edit in various modes
Import and paste images
Work with layers
Understand basic image editing concepts, such as cropping an image, adjusting vibrancy, white balance, and more
Open closed eyes in an image
Making selections
Warp texts and images
Photo Merging
Learn how to resize an image without losing quality.
Without impacting the background, change the color of an object in a photograph.
How to use the Camera Raw Editor
Learn about what resolution is and how to use it
Resample images with ease
Calibrate your monitor
Learn how to set up a color workspace
Blend images together
Work with contextual menus
Applying filters
Creating a Rain texture
How to work with bitmap images
How to upload and publish images to the web, as well as how to prepare images for printing
Having a bird-eye view of an image
Straighten viewpoint
Know keyboard shortcuts for different commands
… and a lot moreTo get the most out of this instruction, fully understand the procedures and practice with your invisible teacher as you go. Using this guide regularly will undoubtedly help you become the superb and competent editor you deserve.
Download links: