Let's Draw Dinosaurs – Learn to draw a variety of dinosaurs step by step! (True EPUB)

2022-08-30

Books, magazines

77

0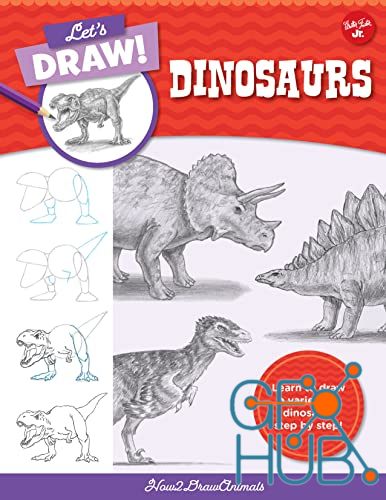 Let's Draw Dinosaurs – Learn to draw a variety of dinosaurs step by step!.
English | 2022 | ISBN: ‎ 0760380821 | 121 pages | True EPUB | 9.13 MB
With Let's Draw Dinosaurs , you can learn to bring your prehistoric drawings to life, guided by realistic illustrations and step-by-step instructions for a variety of dinos.
The easy-to-follow visual and written instructions in this book make it achievable and fun to draw lifelike dinosaurs . Each drawing lesson begins with basic shapes and progresses, step by step, to a finished piece of artwork, making it easy to follow along . You just need to grab a pencil, a piece of paper, and your copy of Let's Draw Dinosaurs , and then flip to the prehistoric animals you want to draw. The drawing projects include:
Gallimimus
Brachiosaurus
Mosasaurus
Iguanodon
Pteranodon
Stegosaurus
Triceratops
Spinosaurus
Velociraptor
Tyrannosaurus rex
The detailed written instructions in this 48-page book also provide tips for placement of details, how to create realistic skin texture, how to shade, and much more. If you've never drawn before, don't be intimidated. Just start with a few basic shapes and follow the illustrated steps—you'll be creating your own amazing animal masterpieces in no time at all! And each time you draw, you should see an improvement in your artistic skills.
Also available from the Let's Draw series: Let's Draw Cats , Let's Draw Dogs , Let's Draw Favorite Animals , Let's Draw Wild Animals , Let's Draw Birds & Butterflies , Let's Draw Sea Creatures , and Let's Draw Dragons .
Download links: