Adobe Master Class – Advanced Compositing in Adobe Photoshop CC

2018-02-15

Books, magazines

3 107

6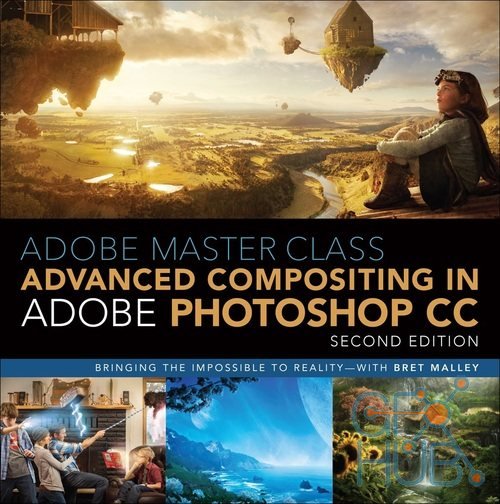 Adobe Master Class – Advanced Compositing in Adobe Photoshop CC
Adobe Master Class: Advanced Compositing in Adobe Photoshop CC: Bringing the Impossible to Reality with Bret Malley, 2nd Edition
Published Dec 1, 2017 by Adobe Press
Pages: 448
Format: pdf
Features
Provides solid grounding in tools and techniques for seamlessly combining images in Adobe Photoshop.
Includes behind-the-scene tutorials for building outstanding images based on examples from the artist's portfolio, as well as guest images (and interviews) from critically acclaimed artists.
Author is an award-winning photographer, Photoshop artist, and instructor.
Table of Contents
Section I: Basics
Chapter 1 Get Oriented
Chapter 2 Hidden Basics
Chapter 3 Layers and Photoshop Muscle
Chapter 4 Favorite Adjustment Layers and Filters
Chapter 5 Photography and Compositing
Section II: Tutorials
Chapter 6 Prep and Organize Four Projects
Chapter 7 Making a Super Composite
Chapter 8 Blending Fire
Chapter 9 Atmosphere, Grit, and Demolition
Chapter 10 Fantasy Worlds from Everyday Images
Section III: Inspiration
Chapter 11 Mastering Elemental Textures
Chapter 12 Put Daddy Down, Please!
Chapter 13 Big Store, Big Scenery
Chapter 14 The Hunt
Chapter 15 Family Portrait Magic
Chapter 16 Epic Fantasy Landscapes
Download links:


http://nitroflare.com/view/BCAEE9902B4E3D8/Adobe_Master_Class_-_Advanced_Compositing_in_Adobe_Photoshop_CC.pdf