IMM 20 Scifi Arms KitBash with Uvs

2021-10-14

3D Models
/
Collections

383

0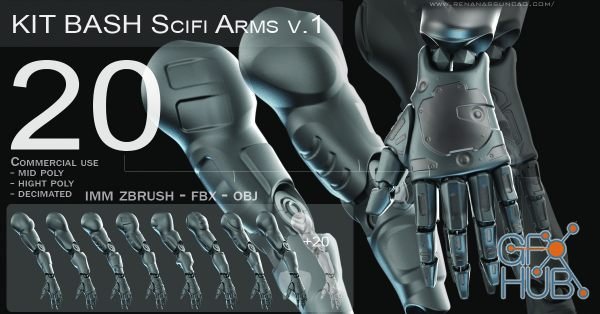 Artstation - IMM 20 Scifi Arms KitBash with Uvs - Plus LP+HP) .obj/.fbx
KITBASH SEASON - 20 Unique Arms to save time on concept, you can do the pose as desired and paint over or complement and customize your sculpture work and make brilliant pieces for a portfolio or commercial projects.
Accompanies:
Files - you get IMM zbrush for easy handling, OBJ and FBX with uvs ready to import in others 3D software.
Posable - Divided into polygroups, they can easily be articulated in the desired pose. the model fits the Unreal mannequin size.
Ready for Mari or SP - you can bake between low poly and high poly and texture in Mari or Substance Painter for your game projects.
Free download links for «IMM 20 Scifi Arms KitBash with Uvs»: