Anatomy360 – Neutral Heads Pack 01

2017-05-29

3D Models
/
Collections

4 982

3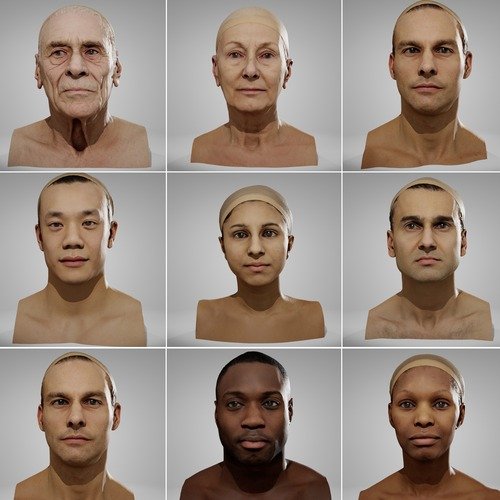 Anatomy360 – Neutral Heads Pack 01
Product Description
Anatomy 360's neutral head pack 01 comes with 10 high-resolution 3d scanned head models with neutral expressions.
What's in the pack
10 x Male and female heads preloaded into the Anatomy 360 Viewer.
For those of you that don't want to use the Anatomy 360 model viewer, I have also extracted all of the models into OBJ files with PNG texture maps. This took quite a bit of time so I thought I'd share.
Included maps are Texture, Detail/Height, and Ambient Occlusion in PNG format.
Instructions:
Run the Anatomy 360 Neutral Head Pack 01 Setup.exe if you want to look at the models in the Anatomy 360 model viewer
Or:
Import the OBJ files and textures into your favorite 3D modeling application. I ripped the OBJs directly from the model viewer using NinjaRipper and Maya.
This is my first torrent so forgive me if I mess something up. If you have trouble using the OBJ models or texture maps, let me know and I'll be happy to help.
_http://anatomy360.info/product/neutral-heads-pack-01/
Download links: