ArtStation – 1200+ Military Reference Pictures 

2023-01-15

2D Graphics
/
Stock Images

455

0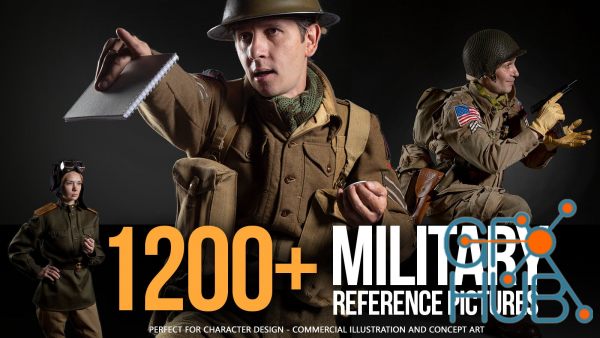 ArtStation – 1200+ Military Reference Pictures by Grafit Studio
Hello friends! We have compiled over 1200 military-themed pictures for you to use in your concept art, illustration and matte-paintings. We included various types of uniform and military gear, which gives you more freedom of choice when creating your artwork. Please (!!!) note it is a historically accurate uniform, meaning - do your research before using it - and use it responsibly. 
IMPORTANT NOTE: Download a PDF-file to get online storage access to all the pictures. No need downloading big files anymore:) 
We introduce a new way of displaying our reference pictures to make things more convenient for you. We realise the size of the files can be too big for your device to handle, especially if you want to have a library of pictures to refer to when creating art. We now upload every picture to a Dropbox folder so you can not only download a zip-file with all the footage, but can also preview and pick only the pictures you want to work with. We hope this feature will help you manage your files in a more suitable way! 
Disclaimer: All models in our photoshoots are participating in the process willingly and are being paid fairly for their amazing job. Any intense scenes, nudity, pose choices are being discussed and approved by them. Any of the models' body features, accessories, clothing, tattoos etc. are not meant to infringe upon any beliefs and do not aim to culturally misappropriate elements being presented in the refpacks.
Download links:


Archive
« March 2023 »
Mon
Tue
Wed
Thu
Fri
Sat
Sun
1
2
3
4
5
6
7
8
9
10
11
12
13
14
15
16
17
18
19
20
21
22
23
24
25
26
27
28
29
30
31